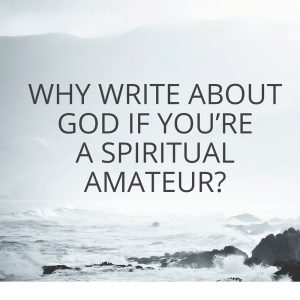 I recently read this quote by C.S. Lewis:
It often happens that two schoolboys can solve difficulties in their work for one another better than the master can. The fellow-pupil can help more than the master because he knows less. The difficulty we want him to explain is one he has recently met. The expert met it so long ago he has forgotten.
After reading that I felt inspired to start writing on here again. Why?
Because I'm convinced that there's value in sharing my journey with others, even if I'm an "amateur" when it comes to God and spiritual things.
And when I talk about being a "spiritual amateur" I'm just being honest. It's not some false humility or anything like that. And I'm not saying I don't know God or haven't matured in my relationship with him over these past 12 years. I have. I pray, read the Bible and all that good stuff. But yet I feel like there's a quality of life with God that I'm missing.
I feel like my "spiritual life" has been anything but "spiritual." It's been more intellectual. Lots of thinking, talking, reading and teaching about God. But not much in the way of real tangible spiritual experiences. I've had some. And I've even witnessed some amazing miracles with my own eyes. And I'm grateful for everything I've experienced. But the point is I still consider myself an amateur when it comes to walking in the spirit, hearing from God and operating in the supernatural.
An Amateur at Love
And if I'm really honest I also consider myself an amateur when it comes to love.
You know that four letter word that's we're supposed to be so excited about as Christians?
Well, frankly, the topic of "love" hasn't interested me much. For example, I'd rather read or talk about a lot of things before talking about loving people. I'd rather learn more how to be more productive, how to impact the world, how to meditate and hear from God, etc.
Love just sounds kind of lame. 
read more…