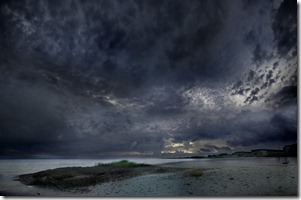 Photo courtesy of ©iStockphoto.com/theswedish
I recently heard a sermon preached about storms. More specifically, it was about God ordained storms in our lives. I agreed with most of what this man of God was preaching but when he started talking about God sending storms into our lives to shape and mold us I just couldn't say amen to that.
I'm not going to mention any names I disagree with because it's not a fight against flesh and blood, it's the thoughts and ideas that spread like cancer that I want to confront. These ideas infect people's souls like a virus and they paralyze the church.
Josh is a Christian, entrepreneur and writer from Ridgefield, WA. He's married with three kids: ages 4, 2 and 1. Before he met God, Josh was a drug addict with a $500/day cocaine addiction that almost killed him. Today he's seeking a real authentic relationship with God and others.