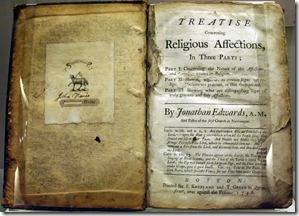 A person who has knowledge of doctrine and theology only – without religious affection – has never engaged in true religion. Nothing is more apparent than this: our religion takes root within us only as deep as our affections attract it. There are thousands who hear the Word of God, who hear great and exceedingly important truths about themselves and their lives, and yet all they hear has no effect upon them, makes no change in the way they live.

The reason is this: they are not affected with what they hear. There are many who hear about the power, the holiness, and the wisdom of God; about Christ and great things that he has done for them and his gracious invitation to them; and yet they remain exactly as they are in life and in practice.

I am bold in saying this, but I believe that no one is ever changed, either by doctrine, by hearing the Word, or by the preaching or teaching of another, unless the affections are moved by these things. No one ever seeks salvation, no one ever cries for wisdom, no one ever wrestles with God, no one ever kneels in prayer or flees from sin, with a heart that remains unaffected. In a word, there is never any great achievement by the things of religion without a heart deeply affected by those things.

– Jonathan Edwards, Religious Affections
Josh is a Christian, entrepreneur and writer from Ridgefield, WA. He's married with three kids: ages 4, 2 and 1. Before he met God, Josh was a drug addict with a $500/day cocaine addiction that almost killed him. Today he's seeking a real authentic relationship with God and others.